The Children and Family Court Advisory and Support Service, known as Cafcass, looks after the interests of children involved in family proceedings.  They try to make sure that the child's voice is heard and that decisions are taken in the child's best interests.
The Cafcass Library team have shared their book recommendations to help younger children and young people understand fostering.  We have also provided more details on each book below.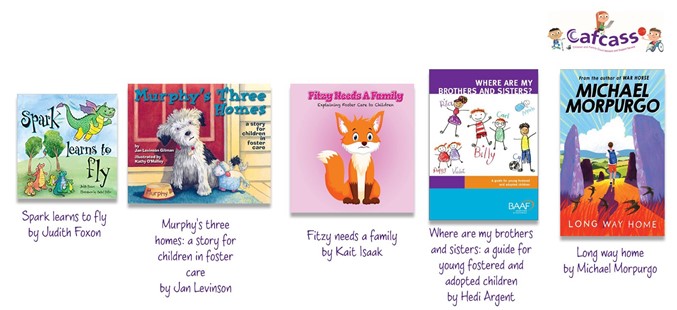 Ages 3-7 years
Spark Learns To Fly
by Judith Foxon
Spark the little dragon lives happily with his parents and baby sister, Flame, until his mum and dad start fighting. When the children get injured, they have to go and live with a foster carer, who helps them understand their situation and come to terms with their problems and painful emotions. How did Spark and Flame feel when they had to leave their family home? What memories do they have of what happened and how do they deal with them? Can they ever live with their mum and dad again?
The simple story and colourful illustrations make this book an excellent resource to use with children aged four to seven years who have been affected by domestic violence. (www.amazon.co.uk, 2021)
Murphy's Three Homes: A Story for Children in Foster Care
by Jan Levinson
Murphy, a Tibetan Terrier puppy, is told he is a 'good luck dog' – he is cheerful, happy, and loves to play and wag his tail. However, after going through two different homes and an animal shelter, Murphy starts to feel like a 'bad luck dog' who nobody wants. ""Murphy's Three Homes"" follows this adorable pup through his placement in three new homes, as well as through his anxiety, self-doubt, and hope for a new, loving family.
Finally, Murphy is placed in a caring foster home where he feels comfortable and valued. He learns that he is not a bad dog after all and can go back to being a playful puppy and a 'good luck dog!' (www.amazon.co.uk, 2021)
Ages 5-9 years
Fitzy Needs a Family: Explaining Foster Care to Children 
by Kait Isaak
Fitzy Needs a Family explains Foster Care in a relatable way to children. Walk alongside the Panda family as they welcome Fitzy into their home. (www.amazon.co.uk, 2021)
Where are My Brothers and Sisters?: A Guide for Young Fostered and Adopted Children
by Hedi Argent
Where are my brothers and sisters and why are we not living together? Are they safe and being looked after? Do I have siblings I don t know about? These, and other concerns that adopted and fostered children may have about their siblings, are covered in this booklet. Following the story of Billy and Carl, who are fostered, this guide explores the different ways in which children may be looked after and what this can mean for the relationships between siblings.
Attractively designed with bright, colourful illustrations, Where are my brothers and sisters? will help children to better understand their family situation and their feelings about this. (www.amazon.co.uk, 2021)
Ages 9-12 years
Long Way Home
By Michael Morpurgo
Long Way Home is a heartfelt tale of an orphaned boy in search of family from War Horse author and former Children's Laureate, Michael Morpurgo.
Another summer. Another foster family. George has already made up his mind to run away, back to the children's home. None of the previous families have wanted him. Why should the Dyers be any different? But George begins to feel at ease with Tom Dyer and his sister Storme, even happy, and changes his mind. He could even feel at home with them – couldn't he? (www.amazon.co.uk, 2021)
Sources
All book reviews by www.amazon.co.uk
https://twitter.com/MyCafcass/status/1395318380031315970 – Cafcass book recommendations on twitter
https://www.cafcass.gov.uk/ – Children and Family Court Advisory and Support Service website
Comments
comments