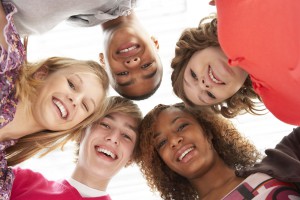 Fostering criteria is something which varies from case to case. Here are some frequently asked questions about what is required, and what you should know about your personal circumstances before you begin the process.
What is the fostering criteria if I have children?
A huge number of family members we speak to say that being part of a foster family has had a positive impact on them, and helped them to understand others better. If you have sons and/or daughters of your own, please speak to them about fostering before you decide to apply and make sure it is a family decision. The whole family should be involved in the assessment process and training is available for sons and daughters of foster carers also.
Deciding to become a foster carer can have a huge impact on everyone living in your home. The sons and daughters of foster carers will have to share their parents, their toys and their friends, as well as cope with difficult and challenging behaviour. In some cases they may find themselves taken into confidence by a child or young person who has suffered considerably. Having said this, it can also be an enriching and enlightening experience for everyone involved, and is one of the most rewarding endeavours you will ever undertake as a family.
Should I consider fostering children of the same age as my children, or should they be different ages?
There is no clear cut answer to this question although some fostering providers may have strong views on this.
Children of the same age: Some carers find that fostering children who are of the same or similar developmental age as their own children, with similar interests (such as enjoying going to farms, parks, seaside etc.) can fit nicely into the home dynamic where these activities appeal to everyone. However, a potentially negative effect is that a child in trauma whose behaviour is difficult at first could affect the behaviour of your own children. It may be that the needs of the fostered child compete with the needs of your own children and it can become difficult to support them at the same time.
Children of different ages: Caring for a teenager when your own children are younger may not seem like a good fit at first, but in reality the needs of each would be very different and perhaps needed at different times. For example, you may be able to spend more time with a teenage foster child in the evening when your children are in bed. There is no 'typical' child so what works for one child may not work for another. These are just examples and are designed to help you think about the possibilities. It should be noted that the matching process is very thorough and a child should only be placed with you if you are sure you can meet the needs of all the children in the home at that time, regardless of their ages.
Can I become a foster carer if one of my own children has disabilities?
If one of your children has a disability, you can still apply to become a foster carer. Parents of children with disabilities are often highly skilled in certain aspect of their parenting and hence may have special affinities and knowledge to offer to a foster child.
Regardless, a fostering agency will want to discuss with you how you would balance to the needs of any children that are placed with you with the needs of your own child and what the impact of having another child in your home might be on your own child.
Do I meet the fostering criteria if I am a single parent?
Yes you can. There are many single foster carers already fostering in the sector and who have done for many years. Being able to provide a warm, supportive and positive family environment is the most important thing.
If you live with a partner but are not married then you will be assessed on the basis of the stability of your relationship and what you can offer. It is recognised that in modern society many people choose to live together for life without ever intending to marry and their relationships are not necessarily any less stable.
Can I foster if I am in a new relationship or if I've recently got married?
If you are in a new relationship and intend on applying to foster jointly, most fostering agencies would suggest that you be together for at least two years beforehand. The dynamic of a personal relationship can change over time and it's important that as a couple you are fully dedicated to each other before committing to providing a supportive environment to a child. The breakup of a relationship can be traumatic for all involved. A child who has been taken into care will have already experienced trauma in their lives and it's important to prevent them from experiencing further trauma in future.
Will my spouse/ partner also need to meet the fostering criteria?
Yes, if you are living together you will both need to be assessed against the same fostering criteria and you will both need to attend the Skills to Foster training.
Can I become a foster parent if I am pregnant/ having fertility treatment?
Applying to foster a child when pregnant is not a good decision. The birth of a child into any family brings both a physical and emotional strain for any parents and sometimes added complications are not anticipated. Prospective foster carers should be in a settled place in their lives and ready to commit to the significant responsibility of fostering. Ideally you should wait until your own child is at least 1 year old before applying to foster, but in some cases we may accept an application sooner. If you were having your first child we would suggest you focus on your immediate family for the at least one year after giving birth.
Can I foster if I am a single man?
There are a number of single men who are foster carers, although significantly less than single women. One of the most important aspects is that you can provide a warm, supportive and positive family environment and have the resilience to cope with the challenges which fostering brings. However, it is important to recognise that some children and young people, depending on their experiences and/or trauma, may best be placed with a two parent family, or a female foster carer.
Can a gay couple apply to become foster parents?
Sexual orientation (whatever it may be) is no barrier to fostering. There is very clear legislation surrounding the equal treatment of all persons gay or straight and many gay families currently foster.
We are a religious family, will we still meet the fostering criteria?
We believe children should be placed with foster families who are able to meet their needs, including religious needs. However you would also need to consider how you would feel if a child was placed with you that did not share your religion, and how you would feel about discussing issues such as alternative religious beliefs or sexuality, whilst still making sure you can abide by the fostering agencies' own policies. It is important that foster carers are tolerant and open to other religious beliefs, and that they are non-judgmental in this respect.
Can I foster with a criminal record?
Enhanced Disclosure and Barring Service (DBS) checks (often referred to as Police Checks) are made when people apply to become foster carers. Applicants with an offence against a child or any violent crime are unlikely to be selected. But having a criminal record won't necessarily disqualify someone from becoming a foster carer.
Whether you meet the required fostering criteria depends on the type and circumstance of the offence and how long ago it was committed. Should you have a caution or criminal conviction it is imperative that you are open and upfront about it with us. This will be discussed at the very early stages of application.
How old do you have to be to meet fostering criteria?
You have to be at least 23 years of age for us to consider your application to foster. Your life experience and level of maturity, your personality, confidence, self esteem and ability to reflect are important elements when we consider your application.
The upper age limit will depend on your physical and mental health, as well as your energy level, your support network and your ability to work in a challenging and sometime fast moving environment.
Can I foster if I work?
We believe that fostering is a job in itself. Having too many job commitments elsewhere would impinge on the flexibility and the ability to react to a crisis situation.
We ask that in a two parent household one person is fully focused on the fostering, having no work commitments elsewhere. For a single applicant it would be essential that if they work, they have very flexible work arrangements, and would only be working part time.
I am a child minder, do I still meet the fostering criteria?
It is difficult to manage fostering alongside being a registered childminder, as we believe that there can be a conflict of interest in some circumstances.  However if you are looking for a complete career change, or are working less than 12 hours a week then you can be considered.  As a foster carer you will need to take a child to and from their school, which may not be the most local to you as well as attend lots of meetings with social workers and other professionals and it would not be appropriate for childminded children to be present at those meetings.  Therefore, fostering may not be suitable for all childminding set-ups but we are happy to discuss.
Can I foster if I smoke?
The issue of a foster carer smoking has become an important consideration at a time when smoking in public areas and work places has become a hot topic at government level. It has always generally been expected that foster carers will not smoke in the home and if they smoked at all, they would do so outside. Foster carers who do smoke cannot look after children under the age of 5 years . No one is allowed to smoke inside the house of a foster carer.
I am disabled or have a medical/ mental health issues, would this affect my application?
All prospective foster carers must have a medical examination. Your own GP/specialist will comment on whether there are any medical issues that may affect your ability to foster. It is always important to be upfront about issues that you think might affect your ability to foster, or even an issue you identify that you believe others may think may impinge on your ability to foster but for which you are confident you can overcome. It is worth remembering that there is no right for an individual to foster. The focus of the assessment is to determine whether a child's needs can be met within a particular household.
What level of English literacy/ language do I need to foster?
It is very important that foster carers can advocate for fostered children, and a reasonable level of reading, writing and spoken English is needed to do this. As part of your assessment and continuing development, you will be required to put together a portfolio. You will also be expected to be able to record effectively and report on the child's progress. If English is not your first language or you feel you need help in improving you skills, your local college will be able to help you with locating a suitable course such as ESOL (English as a Second or Other Language), these courses are often free of charge. We may also require feedback from such a course to progress to assessment.
My partner and/or I don't have British residency, does this matter?
We recommend that the main carer must be a British resident or have indefinite right to remain in the UK to foster in order to ensure continuity for a child placed in your care.
I am moving home, can I apply to foster now?

Ideally you would be settled in your new home before applying to become a foster carer. Moving house and starting an assessment to become a foster carer at the same time do not go well together. However, please feel free to contact us for a discussion about your individual circumstances.
I am currently redecorating/ renovating my home, can I apply to foster now?
This depends on the level of your 'home improvement'. If the work is likely to be completed within a couple of weeks, there's no reason why you should not apply. However, if you are planning building work which is likely to take several weeks, if not months, it is best to get these completed before starting an assessment. However, we are happy to discuss your individual circumstances with you.
Can I foster if I have pets?
Having pets can be an asset to a foster family and should not stop you from meeting the fostering criteria. However, every animal is different and because of this, your pets will also be assessed as part of the process of becoming a foster carer, in terms of their temperament and behaviour. As a pet owner, you would also need to think about how you might feel if one of your pets was injured by a child. If you do have pets it could limit some of the children who you would otherwise have been able to consider, including children who are allergic to animals, some who may have breathing difficulties, some who are scared of animals or some who may previously have been aggressive to animals in the past.