Who ate all the pies? – me, coz it's British Pie Week (1st to 7th March 2021)
Whether it be a lovely warming shepherd's pie on a winter's day through to a summery fruit pie when the sun shines once more, we at UK Fostering wholeheartedly agree that pies are a foodstuff to be celebrated.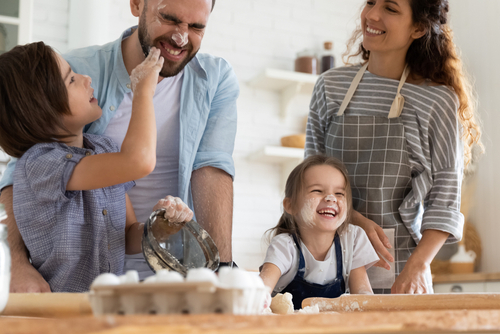 Be it sweet or savoury, covered or open topped (technically a tart), pies are a great way to share food with friends and family (or however we manage it during Covid), that includes preparing together as well as eating together.
As Foster Carers, cooking together as a family can have huge benefits for children in your care.  Yes, it is probably easier to do it your self – it will likely be much quicker and less messy – but Ingrid Simone from Toca Magazine (www.tocaboca.com, 2021) suggests that that there are:
"Top 3 Reasons To Cook Together As A Family"
1. Family bonding
First and foremost, cooking together gives families a time to share, bond and work together. Although we are currently all at home more, this does not mean that we are any less connected, sitting in different rooms/headphones on whilst we work from home, doing schoolwork etc. Setting aside a time where the entire family can work together to create a meal gives us a chance to pause, catch up and just connect with each other.
2. Children can learn 'soft skills'
Children can learn a range of skills in the kitchen, even when they are trying things out on their own, however many of the "soft skills" children can learn really come out when they're cooking with others. From pre-school age all the way up to teens, they can learn social skills, communication skills, collaboration and more, when you cook together as a family.
3. Children can learn 'practical skills'
The skills needed to prepare and cook foods will last children a lifetime, including:
• following a recipe
• measuring
• preparing food (chopping, slicing, stirring, mixing, peeling, cracking an egg)
• cooking techniques (baking, boiling, frying, toasting, simmering, pie-making!)
• cleaning up
We are always learning and developing our skills throughout live, so if there is a certain technique you are unsure about, you can check cooking websites together to find out more. This way, children can also learn valuable lessons about recognising one's strengths and weaknesses, taking initiative to learn new things, and using technology to seek out information.
You may already cook regularly as a family but if not then we hope that you will give it a go! We have a link in resources section below to lots of pie recipes – should you be stuck for ideas 😊
Please also check out our blog on Fostering & Food https://ukfostering.org.uk/fostering-food/
Resources
https://www.bbc.co.uk/bitesize/articles/zmtn2sg – history of pies
https://www.bbcgoodfood.com/search/recipes?q=pie – some pie recipe ideas
Sources
https://tocaboca.com/magazine/cooking-together/
Comments
comments