In the final installment of our series on childhood abuse we look at emotional abuse of which is often present in all of the other forms of abuse covered in this series.
What is emotional abuse?
The NSPCC defines emotional abuse as "any type of abuse that involves the continual emotional mistreatment of a child. It's sometimes called psychological abuse. Emotional abuse can involve deliberately trying to scare, humiliate, isolate or ignore a child.
Emotional abuse includes:
humiliating or constantly criticising a child
threatening, shouting at a child or calling them names
making the child the subject of jokes, or using sarcasm to hurt a child
blaming and scapegoating
making a child perform degrading acts
not recognising a child's own individuality or trying to control their lives
pushing a child too hard or not recognising their limitations
exposing a child to upsetting events or situations, like domestic abuseor drug taking
failing to promote a child's social development
not allowing them to have friends
persistently ignoring them
being absent
manipulating a child
never saying anything kind, expressing positive feelings or congratulating a child on successes
never showing any emotions in interactions with a child, also known as emotional neglect.
(nspcc.org.uk, 2021)
What are the effects of emotional abuse on children?
Emotional abuse can affect children in different ways, Practical Parenting Help suggests the following "
Rejecting:Not acknowledging a child's efforts and letting their thoughts and ideas go unheard can make a child feel unwanted or rejected.
Criticizing: Constantly comparing a child with other children and then belittling or berating their efforts, achievements, and successes can be highly hurtful. Telling them that they aren't good or worthy enough can break their self-esteem and affect their overall mental health.
Neglecting or ignoring: Children are sensitive beings who need your love, care, and support. Withholding love and denying care, support, and guidance can damage their psycho-emotional growth and development.  Neglected children often grow into adults who neglect their children as they lose sensitivity towards others' needs.
Isolating: Sometimes, a parent or caregiver could exercise their control by withholding their child from interacting with others, such as peers and friends. This could be done forcefully or via manipulation.  Such harsh restrictions can isolate a child and make them feel alone and anxious.  Also, over time, such children can struggle with their social skills and may become withdrawn.
Terrorizing: Calling children names, yelling and screaming at them, and threatening or intimidating them to instil fear can make them feel emotionally vulnerable.  An adult's intent could be to use these tactics to scare a child, but they can have dreadful effects on the child's tender heart and mind.
Shaming and bullying: Making fun of a child's skin colour, body size, height, dressing, family, etc., in private or public settings are examples of shaming and bullying. These can make a child feel embarrassed, humiliated, and dejected, affecting their social and emotional health.  A teacher making fun of a student's weakness in class is another example of shaming and bullying.
Gaslighting: Like any other abuse, emotional abuse also clings on to power and control. Gaslighting is when an abuser makes their victim question their own sanity and reality.  Unfortunately, children may not understand this ploy and may start believing that everything is wrong because of them and not the abuser or anyone else.
Corrupting:Manipulating a child into lying, engaging them in degrading acts, and involving them in antisocial behaviour are all forms of emotional abuse.
Unlike physical abuse, emotional abuse isn't readily visible until the child's behaviour raises red flags.  The following are some signs that indicate a child is facing emotional abuse:
Avoiding looking at the abuser or staying near the abuser
Disinterest in things they used to like doing earlier
Sudden downfall in academic performance
Emotional problems, such as low self-esteem, depression, and anxiety
Difficulty sleeping and night terrors
Apathetic, aloof, and unresponsive behaviour
Social withdrawal or desperate attention-seeking
Displaying behaviour that is either too immature or over-mature for their age
Empty facial expression and disdained demeanour
Abrupt changes in speech, such as stuttering
Eating disorders, including undereating or overeating
Abrupt bedwetting or bed-soiling for no medical reason
Unexplained physical complaints, such as body ache or headache for no apparent reason
Destructive thoughts towards self (suicidal thoughts) and others
Indulgence in destructive and antisocial behaviour
Unusual habits, such as head banging, thumb-sucking, and biting
(practicalparentinghelp.com, 2021)
How best can a foster carer support an emotionally abused child?
The top 3 things that a child that has experienced emotional abuse will need from their foster carers are:
knowing that whilst there may not be physical damage to be seen there are emotional scars
understanding that the child may not trust you to be a safe adult, so you may need to earn that trust
they may need lots of emotional support and reassurance
Resources
Further information and advice on the impact of emotional abuse on children, who you as foster carers may be caring for, can be sought from your supervising social worker, and will be covered regularly in your training sessions.  There are some further links and resources below, as well as in our online resource library.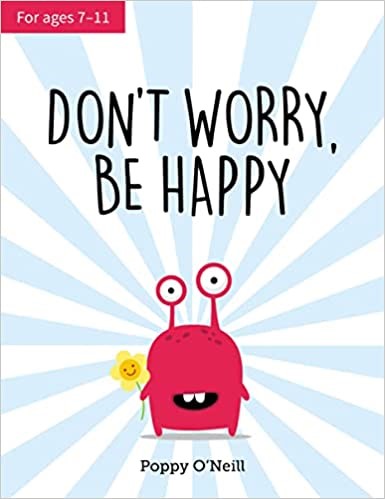 Don't Worry, Be Happy: A Child's Guide to Dealing With Feeling Anxious 
By Poppy O'Neill
Does your child appear to worry a lot?
Perhaps they have frequent tummy upsets, or are irritable, tearful, angry or withdrawn? 
Do they have problems concentrating or show a loss of enthusiasm for their usual interests?
These could all be signs that your child is struggling with feeling anxious.
This practical guide combines cognitive-behavioural therapy methods used by child psychologists in schools with simple activities to help your child to deal with feeling anxious.  It's aimed at children aged 7–11 because a lot happens in these years that can impact a child's emotional well-being, not just now but for years to come.
Your child will be guided, with the help of Fiz – a friendly and supportive character they can identify with – through fun and engaging activities which are interspersed with useful tips, inspirational statements and practical information for parents.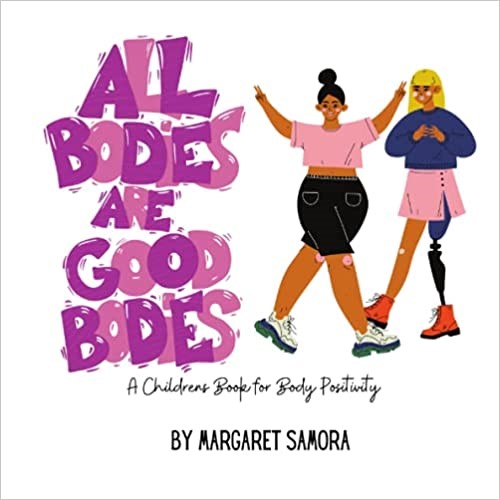 All Bodies Are Good Bodies: A Children's Book About Body Positivity
By Margaret Lynn Samora
All bodies are good bodies.
Even as children, we see TV, we hear our peers, and we listen to our parents.  Sometimes we hear people speaking negatively about their bodies.  We start to learn at a very young age that we have to look a certain way.
However, that doesn't need to be the case.  This book allows parents to explore body positivity with their children!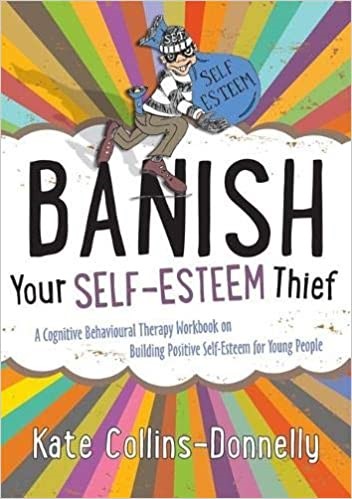 Don't Worry, Be Happy: A Child's Guide to Dealing With Feeling Anxious 
By Kate Collins-Donnelly
Build confidence and self-esteem with this fun and effective workbook for young people.  Look out – the Self-Esteem Thief is on the prowl!  He's the crafty character who keeps stealing your positive self-esteem from your Self-Esteem Vault, leaving only negative thoughts and feelings about you behind.  But the good news is you can banish him for good and this workbook will show you how!
Packed with activities and real-life stories, this imaginative workbook will show you what self-esteem is, how it develops, the impact it can have and how all this applies to your own self-esteem.  Using cognitive behavioural and mindfulness principles and techniques, this workbook will help you change how you think and act in order to build positive self-esteem, protect your Self-Esteem Vault and banish your Self-Esteem Thief for good!  Fun, easy to read and full of tips and strategies, this is an excellent workbook for young people aged 10+ to work through on their own or with the help of a parent or practitioner.
(reviews by amazon.co.uk, 2021)
Videos
https://www.youtube.com/watch?v=aJJ7YpW–dQ – What Is Emotional Neglect? And How To Cope
Sources
https://www.nspcc.org.uk/what-is-child-abuse/types-of-abuse/emotional-abuse/ – NSPCC
https://practicalparentinghelp.com/kids/signs-of-an-emotionally-abused-child-effects-and-prevention/ – Practical Parenting Help
by Lynsey Dobbs – Senior Recruitment Officer, UK Fostering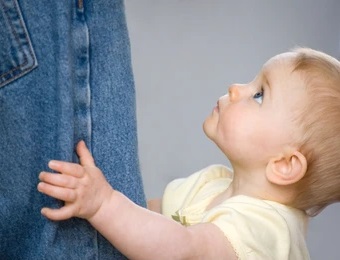 Comments
comments