---
"You can be a policeman, a prince, a banker or whatever, but we are all the same when we eat our bowl of pasta" – Emanuele Filiberto di Savoia, The Prince of Venice
---
It's World Pasta Day! When times are difficult and we are dealing with constant changes and adjustments brought on by COVID, what better opportunity is there to celebrate the simple joy of cooking at home and sharing this classic, comfort dish that everyone loves?
It is commonly believed that pasta was first brought to Italy by explorer Marco Polo upon his return from China in the 13th century. However, compelling evidence suggests that it was actually 5th century merchants of the Arab world that had brought dried noodles called Itriyah (designed for packed journeys across the silk road) to Sicily.
Centuries later, pasta as we know it, has become a key part of Italian food and culture with the invention of pasta sauce, pasta machines and mass pasta production that were all fuelled by its longevity, easy storage, cheap production and versatility. So, what does Italian food history tell us?:
That home cooking doesn't always have to be gourmet-level and starting with simple recipes with versatile ingredients such as pasta can really help increase confidence and ability to experiment over time.
Penne, Spaghetti, Fusilli, Orecchiette, Orzo, Trofie…some of these might sound familiar to you and they're just a few of what makes up a much, much larger collection! With over six hundred (yes, six hundred!) distinct pasta types and shapes that all have different purposes and potential uses, pasta is a very versatile dish with countless potential recipes!
In addition to its versatility, pasta is an easy, time-efficient and cost-effective meal option. Most simple dishes take around twenty minutes, including preparation time, and can make use of everyday ingredients including all the odd ends in the kitchen! For an extra time-efficient option: using fresh pasta will make cooking time even less and therefore, a great choice for a TV dinner. Learning some of these versatile and easy recipes to your repertoire is what cooking at home is all about.
Here's a little guide into the amazing range of pasta types and their uses:
Small shapes like Farfalline – these are often used for simple stews and soups as they are more substantial and add an extra bit of texture to dishes such as the classic Italian pasta soup Minestrone
Short tubes like Penne – the rigid edges of this pasta type hold more sauce and are great for thick cream or tomato-based sauces
Long and thin like Spaghetti – this classic store-cupboard dish was invented in Naples, but did you know that each individual Italian region has its own Spaghetti dish from Bolognaise and Carbonara? So plenty of room to be creative!
Flat noodle strands like Fettucine – with these noodles, your sauce will go a long way, so these are great for a simple drizzle of olive oil or extra buttery dishes!
Pasta sheets – Lasagne, anybody?
Speciality –unique pastas such as 'Squid ink' pasta which venture slightly off the beaten path
Whether you're an expert or novice when it comes to cooking, when learning new techniques or picking up a new recipe it can be intimidating for the first time – but pasta is a great place to try! If you haven't had much experience with home cooking or you didn't cook growing up, you're not alone. It's something that anybody can learn to do, and in this day and age, there are so many resources that are accessible which make the whole process a lot easier. With so many options for pasta dishes, why not try out some of the recipes below?
I remember when I started to enjoy cooking for myself.  I think it feels kind of exciting to be in charge!  To be independent – getting the ingredients so as to start off this meal on my own and in my own way.
If cooking seems like a chore to you or you are not feeling that inspired, then try and find recipes that look good to you.  No matter how much cooking experience you have (or don't have), there are cookbooks that are at your skill level, and in your vein of foods you like to eat.
As time goes on, you will become more confident, and you can estimate what you might need in order to make your own soup or experiment and switch a recipe up, making recipes up on the fly.  You can then identify themes, complimentary flavours and most importantly, what works for you.  Once you have the basics down, this gives you the opportunity to branch out.
Your cooking doesn't have to be this huge gourmet experience, and things don't have to turn out perfect every time.  Start with simple recipes and let your repertoire of recipes gradually develop.  In time, you will perhaps you will create your own 'signature dish'.
You will get faster and faster with practice plus your processes will get more streamlined.  You can start to learn quick tricks and have systems to be more efficient, so that the time factor becomes less of an issue (and perhaps you might not end up using every pan and utensil in the kitchen and save time on the washing up too!)
If you are a newbie to pasta cooking then I hope that you give it a try.  All this talk of delicious pasta has got me craving some spaghetti and meatballs (my fave!)
By Jess Dobbs, Student and Pasta Aficionado
Recipes to try
https://www.gordonramsay.com/gr/recipes/home-made-gnocchi/
https://foodwhirl.com/recipes/mains-sides/gordon-ramsay-style-leek-and-mushroom-pasta
https://www.youtube.com/watch?v=ydbMAFaA6Uw&ab_channel=JoshuaWeissman
Other resources
https://www.youtube.com/watch?v=cAyXFLixr6k&ab_channel=GoodFoodBaddie
https://www.youtube.com/watch?v=HAov09fnlg0&ab_channel=TheFinancialDiet
Sources
https://www.youtube.com/watch?v=F5VsUOzTZl4&ab_channel=Munchies
https://sharethepasta.org/pasta-101/pasta-iq/history-of-pasta/
https://www.youtube.com/watch?v=GTOCBaDBVGI&ab_channel=Epicurious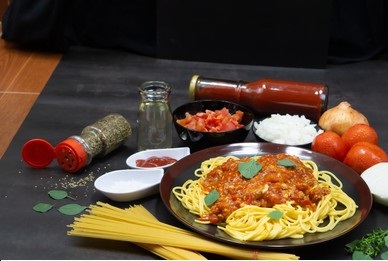 Comments
comments