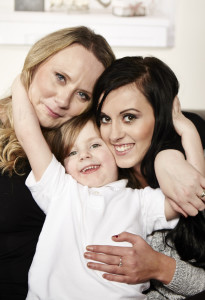 Jenny Molloy aka Hope Daniels or 'Hackney Child', as her social worker files named her, spent most of her childhood in care. She is very proud to refer to herself as a 'care leaver in recovery'. She is called on by government bodies to advise on the care and fostering of children and helped to establish the Care Leavers' Charter in 2012. She has written two books about her experiences in the care system, Hackney Child (Sunday Times Bestseller) and Tainted Love. She lives in Tunbridge Wells with her family.
What a busy week this has been. My travels began with me spending 2 days with a Children's Home provider training in the North West, and was thrilled to be invited to meet the young people in their care.
As a care leaver, going back into a children's home setting is always a mixture of emotions, and I don't take up all offers. What would I do if all is not well? What if one of the young people make disclosures to me? The manager reassured me on the processes and I felt relieved. I loved the way that the Director had dealt with me so felt pretty cool about this visit, and I was right. The young people were such a joy. They were respectful, welcoming with great senses of humour. The house was clean, with a lovely smell of home cooked food wafting through. I immediately felt at home. I slept well knowing the kids were safe.
I spent the next day training social workers and children's home staff using my own life story, which as you can imagine, is always emotionally draining. What a day! The crowd seemed to receive it well, and unexpectedly was treated to all expenses at the hotel. I bounce between turning up at a hotel in the middle of nowhere with no one to meet and greet me to having the full works. I know which one I prefer; it's always lovely to feel valued isn't it?
When reflecting on my day, I realise that I am glad I accepted this job – my faith in residential care has recently been seriously knocked following the recent public exposures of sexual abuse in many of our children's homes. I realise that times were different in the 1970's, 80's and 90's, but actually, for the victims, this makes no difference whatsoever. I'm pleased however that once again, my heart is attached to the amazing places that children's homes can be.
Mid week I enjoyed a meeting with Ofsted re care leavers. It irritates me that the good people I work with in Ofsted who are after all, still social workers, get such grief. I see only dedication and passion for children in care getting the absolute best from them – I leave feeling excited for the future.
Later in the week I dashed back up to the North again ready to give a keynote speech at a social work conference. Felt shattered and emotional, luckily a social worker, one of many, who has wrapped me in a cloud of cuddles was there today. Hadn't seen her since May and was relieved I wasn't on my own. My presentation took on a life of it's own with my frustrations at the lack of professional freedom social workers have on the front line – these people are skilled, compassionate wonderful beings, I want them to be proud not beaten.
End of the week arrived and was was woken up by my granddaughter wanting a cuddle in my bed that morning – onesie and all – how different a life I have made for my kids and granddaughter than what we had pre care.
Social workers rule 🙂
Twitter: @Hackneychild
Comments
comments