"Sustainability", "going green", "environmentally conscious"
: these are the buzzwords that we see time and time again across our social media platforms. These serve as a constant reminder of the link between our lifestyle choices and their impact on the environment.
Here at UK Fostering, we are conscious of this responsibility to want better and do better for the environment and are always aiming to improve.  Further urgent climate change concerns came to light this week in the news which makes this week's blog even more topical and as a young person, a subject close to my heart as it concerns the future.
But how do we start at home, when there are a multitude of other decisions and priorities to be made as a parent, spouse, human? I'll throw my hands up and admit it – the idea can be daunting. As many of us have any other daily responsibilities such as school runs, laundry, what are we doing for dinner? … when do we have time to also be an environmentally conscious, sustainably-savvy, never-miss-a-beat green bean?
Well, the answer is you don't have to!
As the title of this blog suggests however, making a positive change doesn't require perfection. Rather, it should involve being realistic with what you can manage whilst simultaneously being stress-free, affordable and a bit of fun!  Here are some of our tips for building sustainable habits and encouraging children and young people to maintain a healthy lifestyle.
Young Children
Try teaching a younger one to go around the house, identifying and gathering recyclable rubbish to put in the bin. This could be a great first chore!
Create a compost for kitchen scraps
Teenagers
In the case that there is some difficulty with your teen and their willingness to help with chores – e.g., when reminding them to turn the lights off when they're not in the room, turn heating down or off when not required, it can be useful to mention key media events that have inspired a lot of passion and interest from young people for environmental change e.g., Greta Thunberg's work – see links below
Other members of the household
You could opt for buying organically from local sources and farmers markets (which in turn would help the local community too!)
Plan your meals for the week so as to avoid unnecessary wastage
Take a closer look at your electricity provider, whilst also revising and cutting back on fuel costs by keeping the use of the heating to when necessary
As a general effort, encourage walking or public transport to reduce your carbon footprint. You could consider getting an electric car (however we can't all afford a Tesla, Elon Musk!)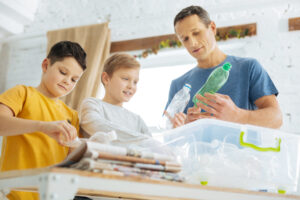 We hope some of our tips and tricks have inspired you in some of the ways you can help your family and children start living greener with small but meaningful changes around the house!  A useful tool to help you work out how to improve is
https://climate-calculator.climatehero.me/
Of course, if you wanted to peruse the subject further or are looking for a more comprehensive guide, please do take a look at some of the reading suggestions listed below.
Sources
https://www.vitabiotics.com/blogs/talkmum/a-family-guide-to-going-green-sustainable-lifestyle-and-green-living-tips-for-families
https://www.gokid.mobi/top-10-sustainable-lifestyle-and-green-living-tips-for-families/
https://www.bbc.co.uk/news/world-58064485  climate change article
Resources
Here are some general links related to environmental concern and practice: –
https://www.gov.uk/government/organisations/environment-agency
https://time.com/5595365/global-climate-strikes-greta-thunberg/
https://www.ted.com/talks/greta_thunberg_the_disarming_case_to_act_right_now_on_climate_change?language=en
https://climate-calculator.climatehero.me/
One that particularly inspired this blog for me!: –
https://www.ted.com/talks/rumaitha_al_busaidi_women_and_girls_you_are_part_of_the_climate_solution
By Jess Dobbs, Student & sometime Green Bean
Comments
comments