This year will mark the 73rd anniversary of the day the SS Empire Windrush arrived at Tilbury Docks in Essex carrying the first Caribbean migrants; invited to work in the UK to help rebuild the country following the devastation of the Second World War.
The fourth national Windrush Day will take place on 22nd June 2021 as a celebration of the contributions of Caribbean migrants now known as the 'Windrush generation'.  Many of this generation came to the UK and went to work for the newly formed NHS or the transport networks, which were vital for the regeneration of the nation.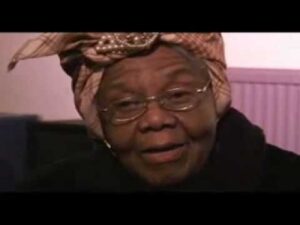 It is difficult to gauge exactly when the first Caribbean foster carers began caring for children in the UK, however, 'community champion' and foster carer Sybil Phoenix OBE started fostering in South London in 1961.
Sybil, a key figure, was born in British Guyana and had some youth work experience from back home.  She fostered for several years before starting her own hostel for girls and becoming a community worker.  Sybil, with husband Joe, also ran several youth clubs in South London that brought young people from a variety of backgrounds together.  In 1973, Sybil was the first black woman to be given an MBE, and then received her OBE in 2008.

Windrush Day events are mainly online this year due to continuing pandemic, however there are lots of resources in the section listed below.  Several organisations are offering free online events such as the National Theatre's 2019 production of Small Island, which was adapted from the prize-winning novel by Andrea Levy.
Below is a small selection of books for children of all ages about the Windrush generation:
For 3-6 years old
Coming to England
by Floella Benjamin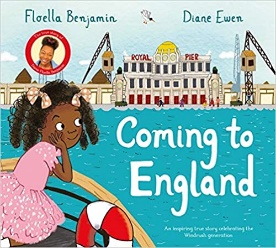 A story about the triumph of hope, love, and determination, Coming to England is the inspiring true story of Baroness Floella Benjamin: from Trinidad to London as part of the Windrush generation, to the House of Lords.
Follow ten-year-old Floella as she and her family set sail from the Caribbean to a new life in London. Alone on a huge ship for two weeks, then tumbled into a cold and unfriendly London, coming to England wasn't at all what Floella had expected . . What will her new school be like? Will she meet the Queen?
Filled with optimism and joy, yet deeply personal and relevant, young children will follow Floella's experiences of moving home and making friends. Alongside vibrant illustrations by Diane Ewen, this powerful story shows little people how courage and determination can always overcome adversity.
   Review by Amazon UK (www.amazon.co.uk, 2021)
For 7-10 years old
All Aboard The Empire Windrush
By Jillian Powell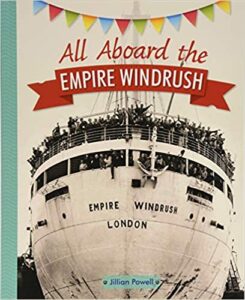 It is 1948 and Preston is about to set sail on a journey that will change his life forever. He and his parents will travel on The Empire Windrush from Jamaica to start a new life in Britain. Join Preston on board and discover …
who was on this famous ship;
how the passengers entertained themselves on the long journey;
and what they thought of England when they arrived!
You will also learn how the Windrush passengers have contributed to British life today.
Review by Amazon UK (www.amazon.co.uk, 2021)
For 8-12 years old
Windrush Child
By Benjamin Zephaniah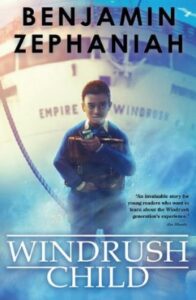 In this heart-stopping adventure, Benjamin Zephaniah shows us what it was like to be a child of the Windrush generation. Leonard is shocked when he arrives with his mother in the port of Southampton. His father is a stranger to him, it's cold and even the Jamaican food doesn't taste the same as it did back home in Maroon Town.
But his parents have brought him here to try to make a better life, so Leonard does his best not to complain, to make new friends, to do well at school – even when people hurt him with their words and with their fists.
How can a boy so far from home learn to enjoy his new life when so many things count against him?
Review by WHSmith (www.whsmith.co.uk, 2021)
For Teens
Voices of the Windrush Generation
By David Matthews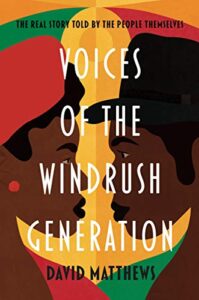 'Evocative, authentic and brilliantly told – a wonderful read.' David Lammy
Foreword by West Indies Cricketer Sir Clive Lloyd
Voices of the Windrush Generation is a powerful collection of stories from the men, women, and children of the Windrush generation – West Indians who emigrated to Britain between 1948 and 1971 in response to labour shortages, and in search of a better life.  Edited by journalist and bestselling author David Matthews, this book paints a vivid portrait of what it meant for those who left the Caribbean for Britain during the early days of mass migration.
Through his own, and many other stories, Matthews explores: why and how so many people came to Britain after World War II, their hopes and dreams, the communities they formed and the difficulties they faced being separated from family and friends while integrating into an often hostile society. We hear how lives were transformed, and what became of the generations that followed, taking the reader right up to the present day, and the impact of the current Windrush deportation scandal upon everyday people.
At once a nostalgic treasure trove of human interest, which unearths the real stories behind the headlines, and a celebration of black British culture, Voices of the Windrush Generation is an absorbing and important book that gives a platform to voices that need to be heard.
Review by Amazon UK (www.amazon.co.uk, 2021)
Resources
https://www.windrushday.org.uk/windrush-day-events-2020/the-national-theatre-announces-final-titles-to-be-streamed-for-free-this-summer/ Free online performances from the National
https://windrushfoundation.com/community-champions/sybil-phoenix/ – more information about Sybil Phoenix in her own words.
https://www.theguardian.com/books/2020/mar/11/top-10-books-about-the-windrush-generation-louise-hare-this-lovely-city – Some suggested reading for adults and older teens
Sources
https://www.windrushday.org.uk/ – Official site for Windrush Day
https://www.bbc.co.uk/news/uk-43808007 – News article about the first Empire Windrush crossing
by Lynsey Dobbs – Senior Recruitment Officer, UK Fostering
Comments
comments