Most of us love a burger, especially when homemade with all the toppings that we like! This Thursday is National Burger Day in the UK so why not celebrate by throwing a few burgers on the BBQ! Why not cook some that you have made yourself? Making (and assembling) burgers are quite an easy way to help children to get creative in the kitchen.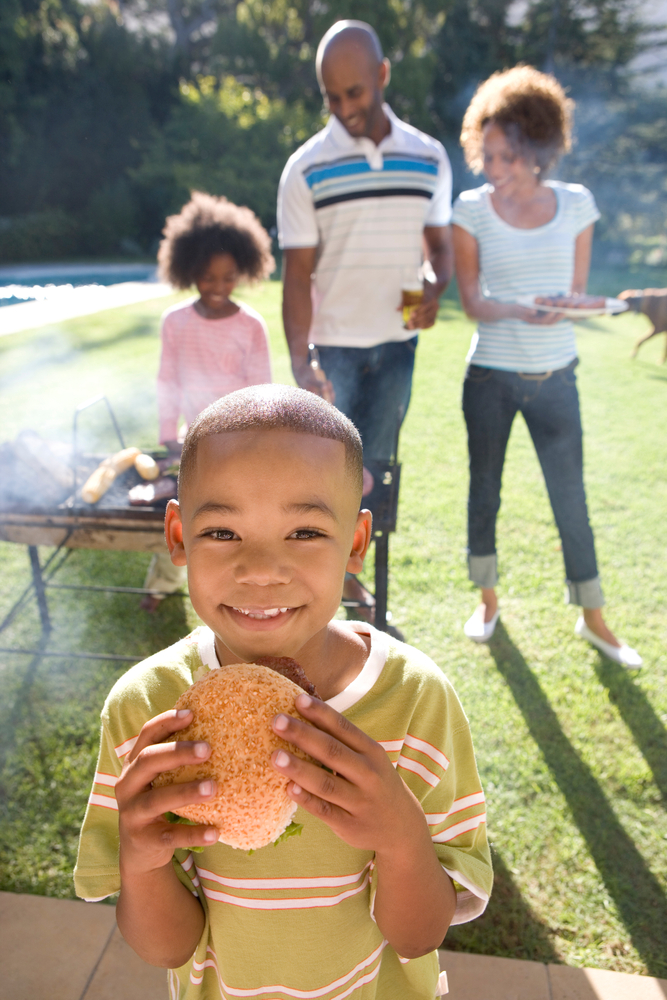 Many burger recipes are easy to make, and from ingredients that you are likely to already have in the kitchen. This encourages children to learn about food preparation in a way that even the most reluctant cook will engage in, who wouldn't want to try and make burgers for their mates (or even the fostering social worker) when they come round for tea?
There is also the shared aspect of putting out the different toppings, such as sliced tomato, lettuce, cheese, onion, mayo, ketchup, etc – you may be more adventurous than this!  You can come together and 'layer up' your unique burger creation whilst discussing the best combinations, including the ever-controversial topic of gherkins – fab or fail? What are your favourite toppings?
You might much prefer just to go for that quick, filling meal (with tasty sides and a large cup of something a bit too sugary) which can feel familiar and comforting. You have probably been going to your local burger restaurant since childhood, meeting your friends there at the weekend as you grew up, bumbled in there after a night out or busy day of shopping before making your way home.  For most people, it is a familiar part of life that we can all relate to.
Being in a familiar place such as a burger restaurant (or any fast-food restaurant for that matter) can also be a useful tool for a foster carer when you are trying to settle a new foster child or young person into your home. Sometimes a child may be reluctant to come into a foster home environment, so perhaps a quick bite to eat on neutral territory so that you can have chat and get to know each other better first can be a good way to break the ice.
To change the subject back to burgers themselves – you may be wondering how burgers or, to use their full name,  hamburgers, came to be. Tori Avey (tori.avey.com, 2021) gives us a brief history of the burger:
"A common misconception is that the first hamburger was created in Hamburg, Germany. While the inspiration for the hamburger came from Hamburg, the sandwich concept was invented much later….
When groups of German immigrants began arriving in America during the 19th century, many earned their livelihood by opening restaurants in large cities like Chicago and New York. It wasn't long before many of their menus featured an Americanized version of the Hamburg steak– beef that was minced or chopped and combined with garlic, onions, salt and pepper, then grilled or fried……
This is where Hamburg in Germany's link to America's classic hamburger ends. The difference between Hamburg steaks and hamburgers as we know them today is, quite simply, the bun. Two simple pieces of bread launched the Hamburg steak into nationwide popularity in the mid 1800's when many Americans found industrial jobs in factories. When steam powered factories began operating through the night hours, food carts offering coffee and small food items were often parked outside. Hungry workers would order food through a window and eat quickly before heading back inside to work. A few years later, when food carts came equipped with gas grills, Hamburg steaks started showing up on their menus. While well-liked by customers, the Hamburg steak proved difficult to eat while standing. Placing the patty between two slices of bread solved this problem, and the hamburger sandwich was born. Who was the first to serve the Hamburg steak as a sandwich? The details have been lost to history. Whoever it was, looking back it might be considered a stroke of culinary genius…
Today hamburgers can be found in nearly every part of the world. Over time the concept has evolved, and meat patties are decorated with an endless variety of creative, tasty toppings. The meat patties themselves have been replaced with healthier options, including black bean, turkey and salmon burgers (though one might argue that these do not really qualify as burgers in the traditional sense). Fast food establishments have also become more adventurous with their "hamburger" patties. At MOS burger in Japan, you can order a rice burger, and McDonald's in India developed a McAloo Tikki Burger made from fried potatoes and peas topped with tomatoes, onions and spicy condiments, to satisfy the dietary restrictions and taste preferences of their diners."
Sources & Resources
https://toriavey.com/history-kitchen/a-brief-history-of-hamburgers/ – Tori's article, plus some burger recipes
https://www.bbcgoodfood.com/recipes/collection/kids-burger-recipes – Assorted burger recipes to make with children, including veggie options
By Lynsey Dobbs – Senior Recruitment Officer, UK Fostering
Comments
comments