Our North West Team are excited to tell you about the continued success of the Step Down To Fostering programme in our region.  We have been able to several children match and young people who are needing that a lot of extra support, with foster carers who have the right skills to care for and nurture children and young people, to understand their needs, and commit to them in the long-term.
We hope to inspire you all – from the Mersey to the Tame, and the Ribble to the Weaver – to consider become Step Down To Fostering Foster Carers with UK Fostering.
What Is Step Down To Fostering?
Step Down to Fostering involves supporting children who are in residential care to find a forever family.
Why Are Children Placed In Residential Care?
Sometimes a child or young person needs the type of environment that only a residential children's home can provide.
Who Are The Children And Young People?
These are children and young people from a range of backgrounds and ages.  The age range of these children and young people are usually between 8-16 years old.
Each child or young person will bring their own individual needs and strengths.
Approach to their needs will be common to all types of fostering, but it will require a little bit more skill.
Aim Of Step Down To Fostering
There are many different types of fostering but Step Down To Fostering aims to achieve a forever home for a child. This is so that they can feel settled, safe, and secure within a family in the long-term through to independence.
Who Can Offer Step Down To Fostering?
There is not just one type of Step Down Foster Carer.  You can be:
A family that fosters
A couple
A single person – male or female
However, we are looking for resilient and dedicated people who can demonstrate the skills below: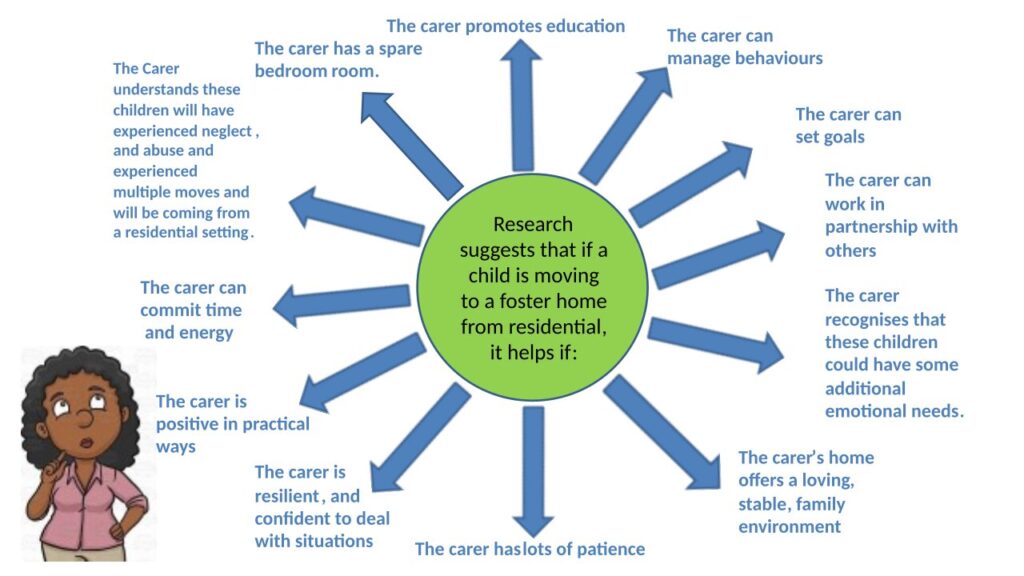 Interested… Want To Know More About The Process?
Step Down To Fostering is a longer than average process so that the child/young person will have time to make the transition from residential to foster home setting in their own time.  Typically, the process will be in four stages: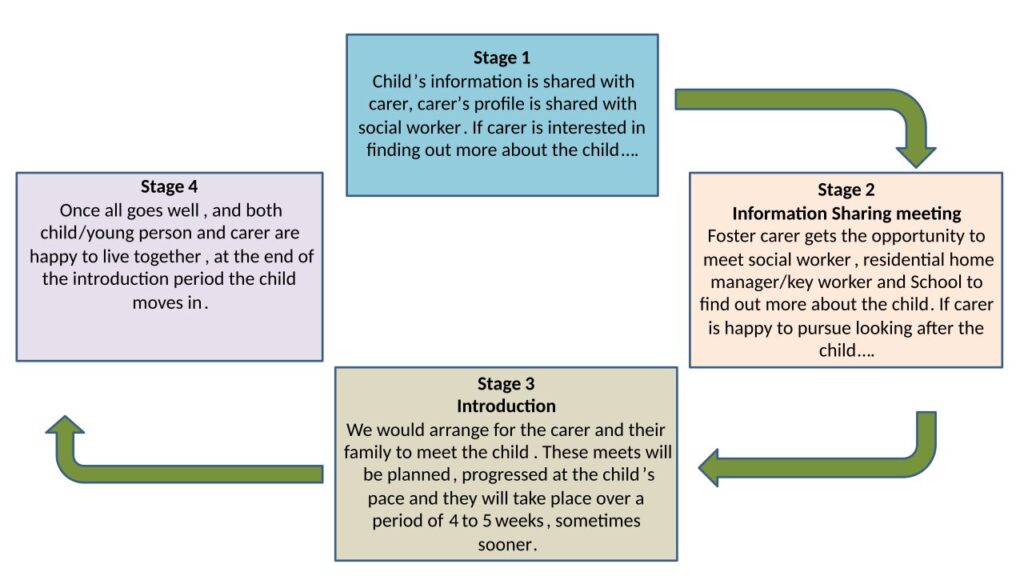 Who Are Involved In The Step Down To Fostering Process?
There can be quite a big team around the child or young person and there will be a range of support available to you and the child:
You will have your very own social worker as well as the child will have their social worker.
The child's psychologist will work with you directly to offer advice and guidance on how to manage the child's emotional needs.
The agency will appoint a support worker to the child.
The child's school would be on board to offer their support.
Thoughts From A Step Down To Fostering Foster Carer
If you are still not sure if you are the right person to be a Step Down To Fostering Foster Carer, then hopefully the words of a lovely lady who is already helping young people in this way, will inspire you:
"Hi, I am Jackie, and I am a Step Down to Fostering Foster Carer with UK Fostering.
I have been fostering for a few years now.
Never judge a child or young person by the information on paper,
it is about remembering why you came into fostering in the first place.
All children and young people could do with unconditional love, genuine care and someone to fight their corner. I embrace all of these when I foster.
It is so rewarding to see the milestones these children can achieve with your support.
I see them in my child every day.
You can achieve this too. Just give Step Down to Fostering ago."
  Jackie, Foster Carer
We look forward to hearing from you and discussing your interest further.
If you don't live in the North West Region (which covers Liverpool, Manchester, south Lancashire and north Cheshire and close surrounding areas – in case you were struggling with your river geography above), we would still be happy to hear from you as there is a strong need for foster carers in all areas, particularly for those aged 10 years and over including teens.
By Udi Aymer, Regional Head – North West Region
Comments
comments