Here at UK Fostering we love a good book!  We have many blogs on our website on a variety of subjects, and that also have reading resources for children and young people.  Please do have a browse through when you have the chance.
However, this is all very helpful if you have an avid reader at home, but you may be one of many parents or carers that struggle to get your young people to step away from their phones, game consoles etc and get into a book!
Below are some top tips from Leanne Jephcott, a Curriculum Specialist at Peters Books to "encourage all children to develop a love of reading, including even the most reluctant of readers!
Be a reading role model
Be a role model for your children! If you show them that you love reading, they're likely to pick up on this too. Tell them about what you're reading, and why you're enjoying it. Reading shouldn't be a box to be ticked each day – make it something to look forward to instead.
Storytime
Research shows that 345,000 children in the UK are read to for less than 15 minutes per week at home, which makes making time for 'storytime' even more vitally important, as reading aloud to a child is one of the most effective ways to encourage them to read for pleasure.
Let children choose their books themselves
Even if they're very young, a child is far more likely to be interested in a book if they have chosen it themselves and it's something they have an interest in to begin with. Put out a small selection and let them pick. There is a book for every child out there, even if they haven't found it yet.
Create excitement
If you're reading aloud to your children, make sure you build excitement throughout the process! Keep the discussion going – if it's a picture book, pause regularly to talk about the illustrations. What's happening in the pictures? What mood do they create? At key points in the story, ask children to guess what might happen when you turn the page.
Make a comfortable space
Ensure as far as possible that there is somewhere comfortable for your children to sit and relax with a book. It should be somewhere they really want to spend time.
All reading is good reading
Don't forget all reading is good reading – it doesn't necessarily have to be a book. Magazines are equally valid and can be the perfect way to get reluctant readers hooked. You could also try newspaper articles, catalogues, or even instruction booklets!
Don't forget non-fiction!
Those who don't enjoy fiction might find a non-fiction book on a topic they're interested in. Boys in particular can be reluctant to pick up a story book but find themselves hooked on non-fiction. It's great for dipping in and out of, so can be read in chunks rather than all in one go.
Book clubs
Encouraging group reading and discussion in a supportive environment can help reluctant or struggling readers to form ideas and responses to the books they read. Presenting this as a positive experience rather than something to be feared (or endured) helps develop a reading for pleasure culture.
What next?
Sometimes children may get stuck in their reading habits and need a little help branching out to try something new. Find out what they've read recently and why they liked it, so you can recommend other, similar books by lesser-known authors.
Make sure you've got the best books
Many bookstores (brick or on online!) have reading suggestions for children of all ages and some have book bundles that include a rage of fiction and non-fiction to support children with language development, vocabulary, grammar and spelling, as well as wonderful stories which can be enjoyed along the way, making learning fun!"
(ypo.co.uk, 2021)
If you are struggling to find new books to encouraging reading, then why not have a look at this year's Waterstones Children's Book Prize Shortlist.  This prize is now in its 17th year, and the organisers say that:
"Our choices always put readers first, rewarding the books that matter to them and reflecting the topics young people of all ages are most passionate about"
(waterstones.com, 2021)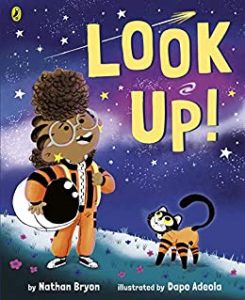 Waterstones Children's Book Prize Shortlist 2021 categories are:
Illustrated Books
Young Readers'
Older Readers'
We have also previously featured last year's overall winning book,
Look Up! By Nathan Byron and Dapo Adeola, in our British Science Week blog
https://ukfostering.org.uk/calling-aspiring-scientists/
Resources
https://www.ypo.co.uk/unbxd-all-search?q=PETERS2021
https://www.waterstones.com/category/childrens-teenage
Sources
https://www.ypo.co.uk/news-and-events/blog/top-tips-to-encourage-children-to-read-by-choice
https://www.waterstones.com/the-waterstones-childrens-book-prize#history
by Lynsey Dobbs – Senior Recruitment Officer, UK Fostering
Comments
comments