As parent or foster carer, raising a thoughtful, well-rounded young man can be a challenge. Children in foster care need an added layer of support to build resilience, positive sense of self, and to understand how to 'be a man' when perhaps some of their early experiences may have not given them the best of role-models.
Whatever their background and early experiences, some boys are slow to pick up social graces, more interested in video games or playing football than dealing with people. Some are boisterous to the point where they have a hard time focusing.
No matter what your son or foster child is like, Babycenter.com suggest ten effective ways to nudge boys towards becoming happy, well-rounded young people.  Please see their ten tips below as well as our suggested videos for older boys in the resource section at the end.
Give him some responsibility
Following directions and finishing tasks are skills that are often slow to develop in boys. Practice helps. Ask your toddler to bring you a spoon so you can stir the pancake batter. Assign your primary school aged child a regular task to help take care of a pet.
A sense of responsibility will serve him well in school – and your home life will run more smoothly, too.
Let him show his emotions
Even in these enlightened times, boys are often expected to stifle their tears and swallow their anger while girls are allowed more free-rein with their emotions. When your son gets upset, let him express himself, as long as he isn't being destructive or completely out of control.
Then, once he's regained control of his emotions, you can talk to him about what he's feeling and why. Help him label his feelings, whether it's hurt or sad or angry (see diagram in resource section below- UKF).
Give him plenty of physical affection
Studies have observed that mums and dads have less physical contact with boys than with girls, a trend that starts in toddlerhood. But girls aren't the only ones who need to be held and cuddled. Hugs from mum and dad (or foster parent who also ensures that their foster child is happy for a hug – always remember to ask!- UKF) can help your boy feel safe and secure.
As boys get older, they're likely to shy away from hugs and kisses from parents, especially when friends are around. But even if they say they don't want it, they still need affection just as much. So, you may need to give your son touches and hugs in ways that are a bit more sneaky – a quick hug when no one is around, a rub on the back while working together in the kitchen (again, obtain a foster child's consent – UKF).
Don't try to shut down his high-revving engine
Boys tend to have a lot of energy, which can get pent-up if they don't have enough chances to run, climb, and blow off steam. Just be sure to remind your son that there are times and places – the classroom, for example – where he'll need to shift to a lower gear.
Don't worry if he isn't acting "masculine" enough
Even tough-guy fathers have a nurturing side (the good ones, at least). A little boy who likes to cuddle his stuffed animals is developing skills that will serve him well in adulthood.
Give him chances to polish his social skills
Most boys don't form close intimate friendships as easily as girls. They're more likely to play in groups and jockey for leadership. Help your son strengthen one-on-one friendships by arranging playdates for him, and encouraging him to share his toys, use his good manners, and generally play nice.
Make music part of his life
Practicing an instrument can give your boy a valuable sense of accomplishment. Studies suggest that music lessons can also sharpen a young child's thinking skills and improve his memory.
If group activities are more your boy's thing, a children's chorus (choir) can be a fun musical activity. Another advantage: Choruses practice together, so you won't have to enforce practice time at home too often. Taking him to concerts or musical theatre is another option, if he's willing.
Encourage his interests, even if they aren't "boy" activities
If your son wants to take dance lessons, his friends may tease him, which can be hard to deal with. But if you instil a strong sense of self in your boy, and encourage him to accept other people's differences, it'll be easier for him to deal with any teasing that comes from being "different."
So, if he wants to take dance lessons, let him. Besides, next year he may very well want to play football instead.
Get involved at school
Talk with your boy's teacher regularly to find out his classroom strengths and weaknesses. Let his teacher know, too, what you think his strengths are. Monitor his homework (without doing the work yourself!), and encourage him to read, or at least listen to, a story at least once a day.
(www.babycentre.com, 2021)
Praise the positive
"Boy" behaviour, even when it's age-appropriate, can be hard for adults to deal with – and boys get plenty of correcting, reprimanding, and scolding in school and at home as a result. Parents of girls often complain that boys get all the attention in the classroom, but (at least at early ages), much of that attention is negative.
What can you do? Whenever possible, try to catch your son "being good." Let him know that you appreciate his efforts to gain self-control and channel his energy into activities that are constructive and rewarding.
Sources
https://www.babycenter.com/child/parenting-strategies/10-tips-for-raising-a-well-rounded-boy_10310246#:~:text=%2010%20tips%20for%20raising%20a%20well-rounded%20boy,which%20can%20get%20pent-up%20if%20they…%20More%20 – Babycenter.com full article
Resources
https://www.facebook.com/ukfosteringagency/photos/a.118714806226442/540497977381454/ – Managing Emotions Support Diagram
https://ukfostering.org.uk/blogs/page/2/ – Britain Get Talking Blog with links to advice and videos supporting good family communication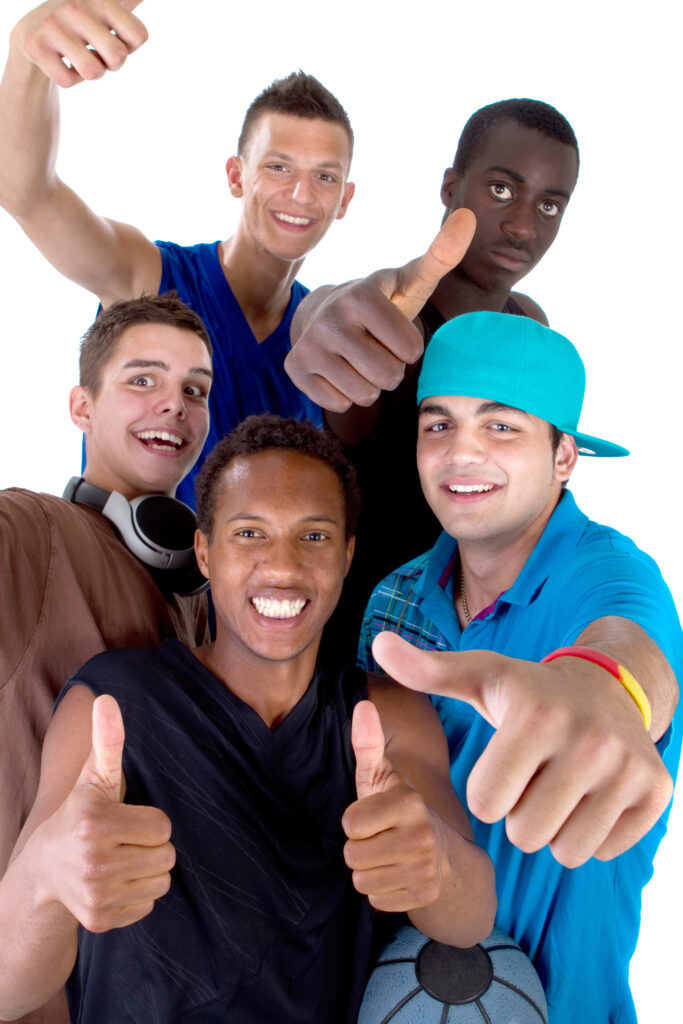 https://www.bbc.com/ownit/its-personal/talking-cards BBC Own It – To Be A Boy (Talking Cards) – Jonny Benjamin a mental health campaigner talks about boys growing into men and all the expectations that this brings.
https://www.bbc.co.uk/bitesize/articles/zmvbpg8 BBC Bitesize – Boys Don't Cry (And Other Lies About Mental Health) – Have you ever been told to 'man up' or heard the phrase 'boys don't cry' thrown around? It might sound like banter on the surface, but statements like these can actually be really harmful. By implying that 'real men' should bottle up their feelings, it can make it seem like expressing yourself is a sign of weakness.  Newsflash: it's not.
https://www.bbc.com/ownit/its-personal/what-does-strong-look-like?collection=to-be-a-boy BBC Own It – To Be A Boy (Why We're Strong) – What do you think of when you hear the word strong? Muscles? The gym? Men? Strength can be presented in many different ways. Without even realising it, every one of us relies on strength to get us through the day. We are ALL stronger than we think, and we each have our own unique strength.
By Lynsey Dobbs – Senior Recruitment Officer, UK Fostering
Comments
comments